Residential Concrete In Waterford, MI
We know how important it is to have a space where you can relax and enjoy your life with family and friends. That's why we take pride in every step of the process when designing patios, walkways, driveways, pool decks, fireplaces, retaining walls, and more! Our team is committed to providing quality craft and customer service at an affordable price. Our experience makes us a residential concrete leader, and we'd love to put that experience to work for you!
We work closely with our clients to ensure that the look and feel of their concrete exceed their expectations. Our experts help you choose the right type of concrete for your project and select complementary colors and finishes so you can rest easy, knowing your property will be enhanced and protected for years.
Making Your Home Concrete Dreams Come True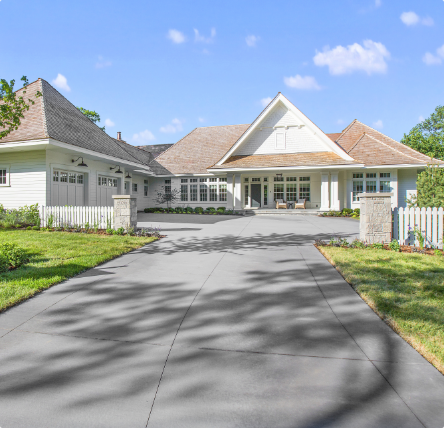 We strive to make every project unique—no matter how big or small—and we work closely with our clients to ensure their vision comes to life exactly as they imagined it.
Driveways
From budget-friendly essential concrete driveways to elaborate decorative or exposed aggregate driveways, we have the right option for you!
Sidewalks
You want your visitors to feel like they're walking into a dream home when they visit you. A concrete sidewalk will help you make this happen by giving them a beautiful first impression.
Retaining Walls
We know what it takes to ensure your retaining wall will stand up against all kinds of weather conditions, and we know how to make sure that it looks great!
Outdoor Living
Enhance the look and feel of your home at an affordable cost with beautiful features like patios, walkways, driveways, pool decks, or steps.
FAQs
Why Choose Colored Concrete?
We offer a wide selection of integral color concrete. Your professional installers can do wonders on your driveway, stamped patio, pool deck, or floors! Colored concrete can enhance the look of your home while complementing the exterior aesthetically.
What's The Expected Lifetime Of A Concrete Driveway?
Several factors can affect the lifespan of your concrete. However, a newly paved driveway can last up to 40 years under ideal circumstances.
What Are The Common Causes Of Concrete Damage?
Most of the problems are due to the harsh winter conditions and exposure to salt. Continual maintenance such as sweeping and washing your driveway will help extend the lifespan of your concrete driveway.